Congratulations to the 2018 Ambassador: Abigail Austin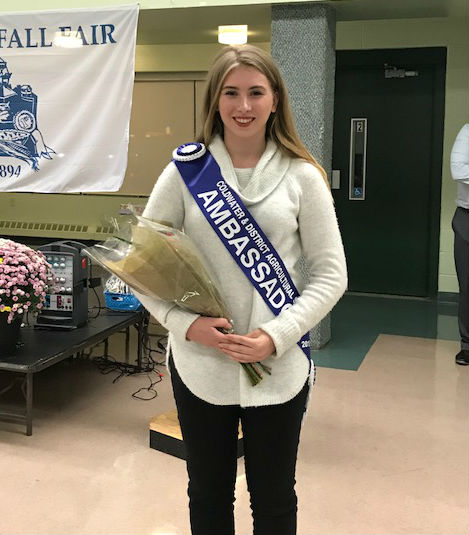 The Coldwater Fall Fair Ambassador Competition will be held on Wednesday, September 26th, 2018 and we hope that you support this incredible opportunity for our community's young leaders.
Being an Ambassador is one of the most rewarding leadership opportunities for rural youth and this program will work to further the opportunities for our local youth.
Each contestant participating in the program on Wednesday, September 26th, 2018 will experience and participate in workshops from qualified speakers as well as the interview process, speech and impromptu question that make up the competition portion of the program, culminating in the awarding of the 2018 Coldwater Fall Fair Ambassador.
The Ambassador competition is open to participants ages 17 to 24 by August of 2018. (Must be 18 by August 2018) and he/she will attend a number of events throughout the year including representing Coldwater at the 2019 Canadian National Exhibition (CNE).
The selected Ambassador will also receive a bursary to pursue their education.
For more information, please contact Amanda Murray at 705-323-3254.
Looking for more information? Check out our frequently asked questions.
Interested in applying to become the Coldwater Fall Fair's 2018 Ambassador? Complete an application form.